Toi beauté Dharamshala!
Welcome to Paradise
You might be already in love with this place or maybe you find it underrated or maybe you're the one who came for a trip with friends and never left. There are a million feelings and stories you carry about this place that sits quietly royally in your heart, just like these mountains. There's a saying about the mountains, "you love them once and they'll love you forever."
Surrounded by beautiful dense pine and deodar forests, the base camp for fantastic trekking opportunities, and did I tell you that café culture is huge here with the gentle rustling of red robes at the table next to yours as monks and nuns visit for their daily cuppa. Restaurants boast of regular Hollywood patrons, from Goldie Hawn to Richard Gere, along with an amazing international cuisine from Italian to Punjabi. Also, you can gaze over the mountains while having a nice cup of coffee which you needed the most.
And if even that's not enough, let's give you a few more reasons to visit.
– A walk past prayer wheels at the serene open monasteries of Nechung and Namgyal is bound to leave you more peaceful and content than when you came in.
Credits- Abhinav Chandel (@abhiandnow)
Once an undiscovered land and now the home of His Holiness Dalai Lama, or as it is also as the "Mini Tibet". Bursting at the seams with everything so Tibetan, from momos to monks, there are Tibetan souvenir shops around every corner and ages old British architecture magnifying the beauty blessing your eyes, along with nirvana-searching souls of every known nationality.  No matter what season you visit you'll be amazed by the sights you only saw on the postcards.
– Clearly not the origin of Darjeeling's finest, Dharamshala does have some claim to tea fame as well. And in the midst of these garden are the roads for your peaceful evening walks or romantic rides with your loved ones.
– Living in India you know how difficult it can get to find a pleasant climate. It's either too hot or too humid and never just right. Being a tropical country, snowfall is not a common sight for most of us, that is unless if you're living in Dharamshala. Snow and sleet is a common phenomenon in upper Dharamshala between the months of December and February, as common as humidity is in Bombay. Next time you want to experience snowfall and low temperatures you don't need to travel to Switzerland.
Credits- Abhinav Chandel (@abhiandnow)
– Dharamshala International Film Festival (DIFF). Yes, you read that right. Dharamshala hosts an International Film Festival annually. If you're a film enthusiast and have always wanted to attend a film festival, then now is your chance. Filmmakers both Indian and international, film critics, media personnel all make their way to Dharmashala. You should too.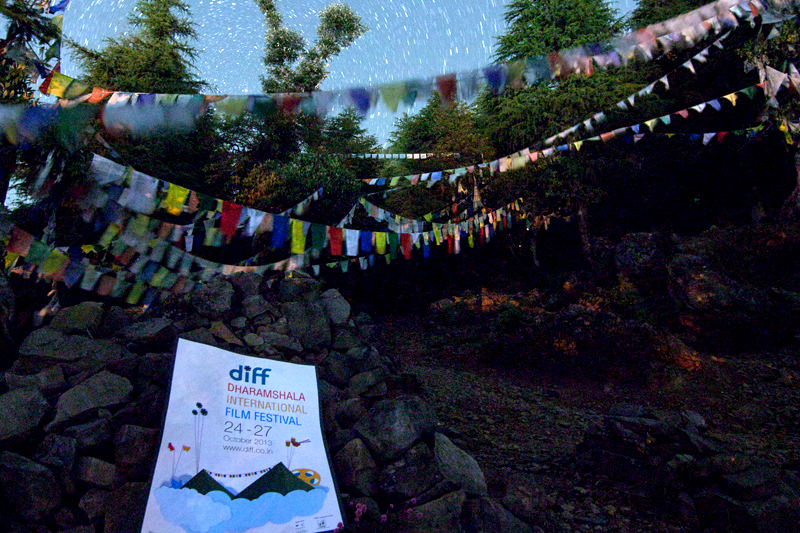 – Maybe this is where you'll find peace and reinstall your faith in humanity.
No, we are not going to recommend you sightseeing spots, or any other spot that you should check out. No, that's not Dharamshala. Go everywhere and anywhere, go to hidden corners, walk on streets no one told you about, venture into jungles, and you'll understand the true essence of Dharamshala. Go out and accept what you've been drawn towards by the virtue of your own likes and dislikes, for no one can guide you towards a truly fulfilling experience of Dharamshala.
– Every night here will tell you a new story, and maybe even a trip to the magical universe if you're lucky (Milky-way)
– And what won't you give to watch sunsets like these.
– And maybe a sudden pop of colors in the middle of grey evenings.
Pic Courtesy – Vaibhav Ahluwalia
Seriously, these captures are never-ending.
WARNING – You might find yourself looking for a home here.