Watch Yourself, Mate!
8 Table Manners you must have while dining
Man, you need more than looks and money to impress the world. You should have a way to present yourself in front of others in every field. And especially while dining, you should have the right table manners, because that is the place where people watch you damn close, mark my words here! Whether you're headed on a date, a dinner party, or sitting down at your dining room table for a holiday dinner, there's always a place for manners. So the next time you sit down for a meal with a colleague, partner, client, friend, or family member, remember these tips because these table manners reflect a huge part of your personality.
1. Watch yourself while eating
It is the most important table manner you have to learn. You need to watch yourself while you are eating. Don't talk while eating and specifically while swallowing. This would look gross that you are talking and some part of the unswallowed food suddenly fell from your mouth. Just picture yourself that you are dining at a five-star restaurant rather than eating alone where no one is watching you, as it will make you attentive and presentable in front of others.
Definitely not like that!
2. Put Napkin in your Lap
The primary task you should do is that you should put the napkin, present in front of your table, in your lap. Just remember they are there for you only! Supporting you! Helping you achieve the goal of not having sauce on your face or your white pants. They serve all sorts of useful functions including cleaning your hands, discreet removal of inedible things from your mouth, like chicken bones or, I don't know, whatever you want out of your mouth immediately. It goes into the napkin, then gets sort of rolled in and around. At a restaurant, feel free to ask for another napkin.
It's no doubt, better to start eating 20 seconds later than everyone than 5 minutes before. Different people and situations have different etiquette, but unless instructed otherwise, you should not start eating until everyone is seated, everyone is served, and the host or the eldest member picks up his or her fork.
As per general rule, implements are arranged with forks on the left, then a plate, then knives, then spoons. Daniel Post Senning suggests remember FORKS as an acronym: Forks, O (for a plate), Knives and Spoons.
5. Work your way in
There may be some implements on the table for every course and hurdles to get to them too. You should just start with the ones outside and work your way in. Don't put your hands to grab a meal from the middle of the table, as it will make things go awkward. You do not need to make a fool of yourself, right?
6. Follow the leader
It is a simple rule to adhere to. Look up to your host, if you are confused and are ever in a doubt of what to do. It will pave you a way to understand how the dining is taking place and will help you relax and enjoy the meal.
This should be abundantly clear but, unless this is a work lunch and everyone else has multiple phones on the table, you should never look at yours. Generally speaking, if you're in a social situation with humans you care about, try not to look at your phone. However, everyone does need to look at their phone occasionally, and this is why it's a great thing to ask, "Will you excuse me?" and then head to the bathroom to check your Facebook Messenger as God intended.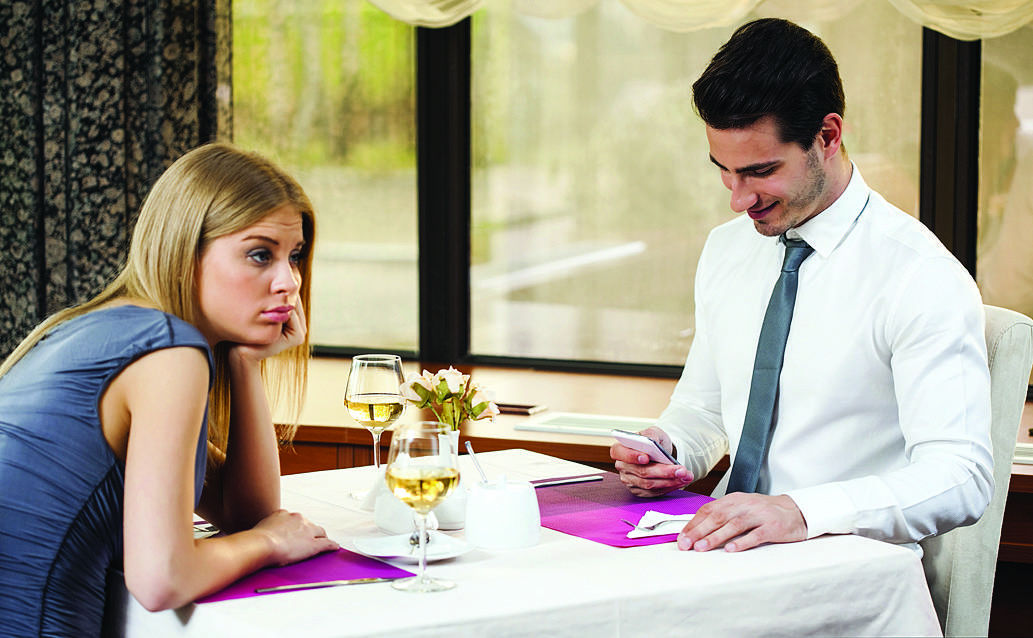 8. Rest when done
Place your knife and fork parallel across the plate pointing upwards anywhere between 11 and 12 'o clock. Don't cross the utensils in an inverted-V, that's means "I'm resting," and never cross them into an X. The whole point of this placement is to allow the server to easily stabilize the cutlery on the plate and prevent it from sliding off. Also, avoid letting the cutlery touch the table at any point, particularly if there's a tablecloth involved.